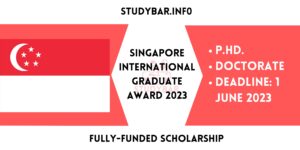 Singapore International Graduate Award is a fully funded merit-based award for students from all around the world having excellent academic records. SINGA program 2023-24 welcomes students who want to get their Ph.D. degrees from the best institutions in Singapore. This is a full-time research scholarship in which the students will be monitored by top-class supervisors who helps the students to gain excellence in their research work and fields.
SINGA acts as a linkage between the brilliant students of the world and Singapore. International students can get a chance to get their doctoral-level studies at the universities like Nanyang Technological University, the National University of Singapore, Singapore Management University, and the Singapore University of Technology. The SINGA program welcomes students who want to gain their Ph.D. degrees.
Also CheckKhalifa University Graduate Scholarship 2023
The Singapore government scholarship applicants will continue their research in the advanced laboratory of A*STAR Research Institutes in Singapore. In addition, students will learn to co-exist in a multicultural and diverse environment by studying with students of different nationalities. Along with these academic advantages, the applicants will get some real-life experience of how the smallest country can be made economically and socially prosperous. The stay of the students under this scholarship program for four years will allow them to explore the country from an economic, educational, cultural, social, or political point of view. Singapore is a gateway to some of the emerging economies in the Asia Pacific region. This Singapore scholarship will provide many useful experiences.
This is a unique scholarship program as it offers a Ph.D. program directly after the bachelor's program. The SINGA opportunity also allows the students who have completed their master's to continue their Ph.D. with the exemption of some courses which the students who completed their bachelor's have to study for the completion of their Ph.D. The SINGA students will get their completion certificates from one of these universities i.e. NTU, NUS, SUTD, and SMU; it is proof of SINGA collaboration.
About Singapore International Graduate Award:
Host Country: Singapore
Host Labs: A*STAR Research Institutes, NTU, NUS, or SUTD.
Offered By: The Agency for Science, Technology, and Research, Singapore.
Degree Level: P.hD./Doctorate
Program Duration: 4 Years.
Also CheckSabanci University Scholarships 2023 Fully-Funded ,Turkey
Benefits of the Singapore International Graduate Award:
Singapore International Graduate Award will provide:
Covers the full tuition fees.
Monthly stipend of $ 2,000. After the first examination, the monthly stipend will be increased to $ 2500.
One-time airfare scholarship of up to $ 1500.
One-time settlement grant of $ 1000.
The settling-in allowance will be given for up to $ 1,000.
Eligibility Criteria:
Applicants should be international students.
Bachelor's degree holders.
Applicants should have extraordinary academic results.
Applicant should have proficiency in the English language.
Singaporean nationals are not eligible.
Master's program students are not eligible.
Candidates who want to get their Ph.D. in science and engineering are eligible.
D. courses for social sciences, humanities, and economics are not eligible.
Also check List Of Fully Funded USA Scholarships 2023
How to Apply?
The application process is online. The applicant has to submit all the necessary documents online.
The applicants have to select the research projects from "Go to Research Areas".
When at least two reference letters will be received by SINGA, the application process will start.
Applicants who are applying through the SINGA portal, it is not required to use university portals separately.
Submit your application at least two weeks before the deadline because once the application is submitted your referees will receive an email and they send the reference letters.
The applicants have to explain their research proposals in the application forms.
The applicant should submit more than one research proposal.
The candidates can apply in any field of interest for Ph.D.
Required Documents:
A copy of a valid passport.
Passport-size photo (JPG or PNG format).
All academic transcripts.
2 recommendation letters.
English proficiency certificate (if required).
Application Deadline:
The deadline for the SINGA scholarship program is 1 June 2023.