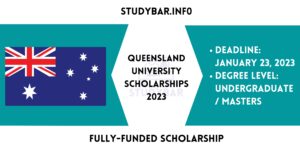 Great news! Applications for Queensland University Scholarships are available now. This article will lead you to the details of this scholarship program, its benefits, and step by step application process.
Queensland University Scholarships 2023-2024 are started for international students now. These scholarships are available for undergraduate and master's levels. These scholarships offer up to $10,000.
Scholarships are provided for brilliant global students in undergraduate or postgraduate programs in Science at UQ. UQ standards include multiplicity and creativity and prefer applications from those who can take diversity to the university. The Faculty of Science also focuses to promote gender equality in its admissions.
The University of Queensland (UQ) is a public research university cited in Brisbane, Australia, and is established in 1909 by the state parliament. UQ is Australia's fifth most ancient university. UQ is among Australia's leading universities and is one of the most respectable institutions in the world.
Also check: University of Wolverhampton Scholarship, United Kingdom
Details of the Queensland University Scholarships
Country: Australia
Degree Level: Undergraduate / Masters
Institution(s): Queensland University
Program Period: 1 year
Required Languages: English
Eligible Countries: All world countries
Deadline:

EAIT International Award – Year 12: December 11, 2022
Science International Scholarship: January 23, 2023
Field Areas:
For EAIT International Award – Year 12
Architecture
Design and Urban Planning
Computer Science and IT
Engineering
Science International Scholarship
Agriculture and Environment
Architecture
Planning and Design
Science and Mathematics
Scholarship Coverage
Queensland University is presenting the following scholarships:
Science International Scholarship:
The scholarship provides $3,000.
The scholarship grant is conditional on scholarship holders meeting the regulations mentioned above, as applicable, at the payment date.
UQ will provide the scholarship to the qualifiers after the academic census date in the first semester.
UQ will transfer the grant amount into the recipient's Australian bank account.
EAIT International Award – Year 12:
The total value of this award is $10,000 to support the qualifiers with expenses for the specified degree program.
A payment of $5000 will be offered to the student's UQ account following the census date of the first two semesters, i.e. 31 March or 31 August.
Also read: Singapore International Graduate Award 2023
Eligibility Criteria
To qualify for Queensland University Scholarship for International Students, candidates must match the following criteria:
Science International Scholarship:
The candidate must be an international student.
Submit all documents to meet conditions linked with an offer from UQ for an available program before the scholarship closing date.
Demonstrate outstanding academic career as part of the UQ program application.
The candidate must be enrolling in a program administered by the UQ Faculty of Science; the program must include more than one year (full-time).
The candidate must be registering for the first semester of study at UQ.
If you are already enrolled at UQ and want to change a program, you are not capable of these scholarships.
Students joining non-award, study abroad, or Exchange programs are not eligible.
Each scholarship qualifier must:

Start studying in the semester pointed out in the UQ offer letter.
Try your best to successfully complete the program of study.
Request UQ to publish their name and photo, and degree program name, and categorize them as a scholarship achiever.
Provide a reference and appropriate photo for publication.
EAIT International Award – Year 12:
The candidate must be enrolling as a full-time student in Engineering, Architecture, or IT undergraduate program in 2022.
The candidate must not be getting fee sponsorship.
The candidate must be an international student.
How to Apply?
Science International Scholarship:
Apply to a UQ undergraduate or postgraduate program directly from here
Get a UQ Student ID Number and an offer.
Fill out the scholarship online application form here
Submit your Application by 5 pm (AEST) on the scholarship's last date.
EAIT International Award – Year 12:
Fill out the online application form.
You are required to provide a personal statement elaborating:

why do you want to study your selected program and how the scholarship will assist you
It is good to provide information about any relevant extra-curricular activities which may improve your application.
Website
For more details about Queensland University Scholarships, please visit the official websites:
For further Queensland University Scholarships, click here