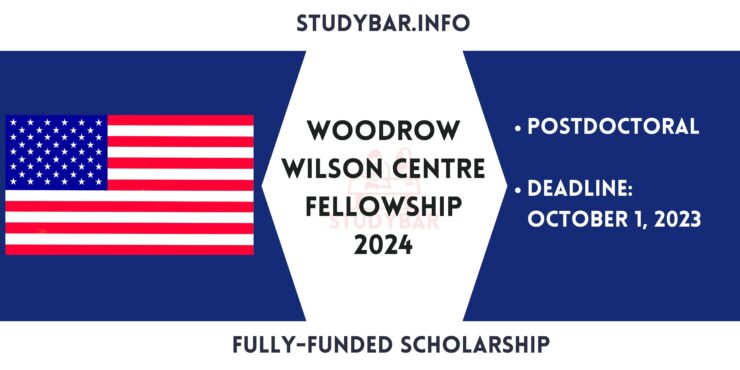 Continue your education USA. Happy news Fellowships at the Woodrow Wilson Centre are available right now. In this piece, we'll go into great depth regarding this fellowship, outline its advantages, and walk you through the application process.
International students can apply for the fully funded Woodrow Wilson Centre Fellowship 2024–2025. Offering postdoctoral research studies in this scholarship. The nine-month Woodrow Wilson Centre Fellowship has a salary of $90,000.
The Woodrow Wilson International Center for Scholars promotes outstanding scholarship and links such studies to issues of concern to Washington-area decision-makers in order to bridge the gap between the worlds of ideas and policy.
Through a worldwide competition, the Centre offers housing fellowships for nine months. Academics, professionals, journalists, and government thinkers can apply to the Wilson Center's top international fellowship program. While undertaking research and writing in their particular fields, fellows develop ties with the Wilson Centre personnel, other academics in residence, and officials in Washington, D.C. The Centre takes into consideration fellowship proposals that tackle important global and American issues without focusing on campaigning.
Also, check University of Glasgow Scholarships United Kingdom 2023
Scholarship Summary
Level of Study: Postdoctoral
Institution(s): Wilson Center
Study in: USA
Opportunity Focus Areas: All Specializations
Program Period: The full American academic year, from early September to the end of May, is when fellows are expected to reside there. On rare occasions, fellowships having a minimum tenure of four months are given out.
Deadline: October 1, 2023
Scholarship Coverage
The following advantages are given to the recipient of the Woodrow Wilson Centre Fellowship:
The Centre provides a nine-month fellowship with a salary of $90,000. Fellows are responsible for paying for their own travel and health insurance.
Eligibility Criteria for Woodrow Wilson Center Fellowship
In order to qualify for a Woodrow Wilson Centre Fellowship, you must:
Required Language: English.
Eligible Countries: All world countries
Men and women from a wide range of backgrounds (including academics, business, government, media, law, and other professions) with exceptional talents and expertise are needed.
Citizens or permanent residents of any nation (applicants from abroad must have a current passport and be eligible to get a J-1 visa even if they are already in the US).
Ph.D. or J.D. holders seeking academic positions (degrees must be awarded before the application deadline of October 1).
Through publications outside of their Ph.D. dissertations, academic hopefuls showcase their intellectual accomplishment.
Practitioners or policymakers who have achieved a comparable degree of professional success.
English ability is required since the Centre wants to promote discussion among its participants.
How to Apply for Woodrow Wilson Center Fellowship?
Apply here to receive a Woodrow Wilson Centre Fellowship.
Visit the official website for the Woodrow Wilson Centre Fellowship to learn more: