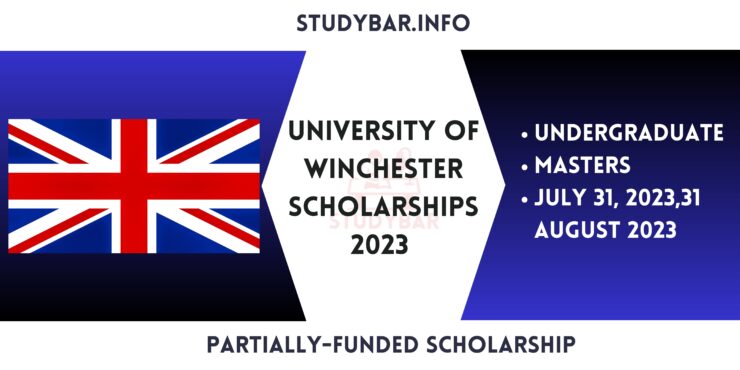 Pursue your higher education in the UK. Good news for you. Applications are now being accepted to apply for the University of Winchester Scholarships 2023 in the United Kingdom. All students who wish to enroll in undergraduate and graduate programs at the top UK universities are eligible for this scholarship.
A partially financed scholarship option is available via Winchester University, and these scholarships can save you up to £1,000 each year on your tuition costs. All international (non-EU) students at Winchester University are eligible for the scholarships. For full-time enrollment in a taught postgraduate or undergraduate program, this scholarship is offered.
The University of Winchester is pleased to honor and provide assistance for exceptional students who exhibit outstanding academic accomplishment, leadership potential, and a commitment to improving their communities. All University of Winchester foreign students have access to a safe and friendly international community.
You must read the entire article below to learn more specific details about the University of Winchester International Scholarships offered in the UK.
Details About University of Winchester Scholarships 2023 
Scholarship Country: UK
Host institute: University of Winchester
Degree level: Undergraduate degree, Master's degree
Deadline:

Scholarships for international students expire on July 31, 2023.
Scholarships 31 August 2023 for internationally taught masters.
Scholarship Duration
Depends on the chosen degree program.
Also, see:
List of Available study programs
Management
Accounting
American studies
Animal welfare
Anthropology
Archaeology
Arts
Business
Childhood and youth
Classics
Community
Computing
Creative writing
Criminology
Cyber security
Education studies
English
English language
English literature
Ethics
Fashion
Forensics
Geography
Health
Dance
Digital design
Digital media
Drama
Economics
History
Humanities
Information technology
Journalism
Law
Marketing
Mathematics
Media and communication
Medical
Music
Musical theatre
Nursing
Performing arts
Philosophy
Physiotherapy
Policing
Politics
Leadership
Liberal arts
Linguistics
Teaching
Theatre
Theology
Value studies
Psychology
Reconciliation
Religion
Research
Science
Social work
Sociology
Sport
Financial Benefits of the University of Winchester Scholarship 2023 
In the UK, there are two different kinds of Winchester International Scholarships.
1. International Students Scholarship – Postgraduate:
Value: Up to £3,000
Open to: This scholarship is open to all International Students applying for a full-time taught program.
2. International Student Scholarship:
Value: £1,000
Open to: This scholarship is open to International Students applying for a full-time taught program.
Eligibility Criteria for Winchester International Scholarships 2023
The following qualifying conditions for the Winchester International Scholarship in the UK must be met by applicants;
The required study language is English.
Applicants from all countries are eligible.
All international (non-EU) students who apply to the Winchester University full-time undergraduate or postgraduate teaching programs are eligible for international student scholarships.
Candidates for ELTSU programs (such as international foundation programs and certifications in English for students from abroad) are ineligible.
For undergraduate degree English language requirements:
___A minimum writing section score of 5.5 is required for an overall IELTS score of 6.0.
At least 18 out of a possible 60 on the TOEFL IBT is required for the writing section.
___ A score of at least 18 on the writing section of the TOEFL IBT test, with a total score of 60.
For master's degree English language requirements:
___IELTS overall band score of 6.5, including a writing component band score of at least 5.5.
___ 79 is the minimum required score on the TOEFL IBT, and the writing section must score at least 18.
Required Documents
CV or resume
Previous academic transcripts
Personal statement
Work experiences
A duplicate of your passport's front page and any prior UK visa stamps.
You must submit evidence of your English Language skills (e.g. IELTS – the complete list of all accepted tests is Given Here).
How to apply for the University of Winchester Scholarship 2023?
The University of Winchester International Scholarships application procedure is conducted online for the academic year 2023.The procedures listed below must be followed in order to apply for this UK scholarship opportunity;
All the applicants must completely fill out their International Scholarship Application Form and then return it to international@winchester.ac.uk.
The application form (described above) and all other documentation must be submitted together by the applicant.
Before submitting an application for a scholarship, candidates must review all of the program's unique criteria, eligibility restrictions, and application procedures.
You must go to the official website listed below to apply and learn more about scholarships in the UK.