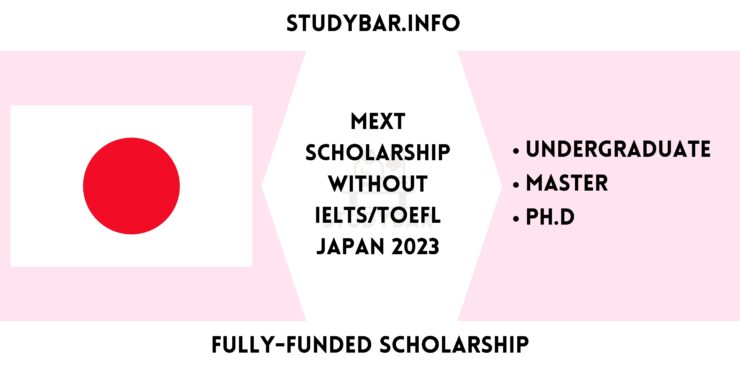 Please read this page if you want to study in Japan on a scholarship because we will outline the MEXT scholarship 2023, its advantages, and the whole application process in this post.
A fully financed award for overseas students is the MEXT Award 2023–2024. For undergraduate, master's, Ph.D., and training programs, this scholarship is offered. The MEXT scholarship will pay for your round-trip flights from your nation to Japan as well as your tuition, housing costs, and monthly living allowance.
Under the Japanese Government (MEXT) Scholarships Programme, the Ministry of Education, Culture, Sports, Science and Technology (MEXT) of Japan provides financial aid to foreign students who want to enroll in undergraduate or graduate-level research programs at Japanese institutions.
The MEXT Japanese Government Scholarship application cycle is typically issued in April. IELTS/TOEFL and Japanese language proficiency are not required for this fellowship.
This is the scholarship that the Mext embassy suggests. Your application will be delivered through the Japanese embassy there. Here are the URLs for each embassy.
Please check the Danish Government Scholarship 2023-24
MEXT Scholarship Summary
Level of Study:  Training, Masters, Ph.D., and Undergraduate
Institution(s): Japanese Universities
Study in: Japan
Courses Offered:  All fields, including social science, engineering, medicine, health, the arts, and humanities, are provided at all Japanese universities. There are no restrictions on academic fields.
Program Length: 2-3 years for a master's degree, 3-4 years for a Ph.D., and 4-5 years for an undergraduate degree.
Deadline for MEXT Scholarships: Varying by Embassy (Click here to verify deadlines)
MEXT Scholarship Coverage
The winner of this scholarship will benefit from the following things:
Allowances: Monthly Stipend Allowance, Preparatory Allowance (2023 Rate)
Education Fees: MEXT will cover entrance exam fees as well as university tuition costs.
Traveling Costs: Transportation to Japan: MEXT will pay for round-trip airline tickets from your country to Japan. The flight ticket will be for an economy flight.
Accommodations: For international students, universities offer living halls.
Eligibility Criteria for MEXT Scholarship 2023
To be qualified for the MEXT Scholarship, the candidate must meet each of the requirements mentioned below:
Required Language: English
Eligible Countries: All world countries
Candidates must be citizens of countries with which Japan maintains diplomatic ties.
An applicant who was a citizen of Japan at the time of application is disqualified.
For undergraduate students, you must be at least 17 years old, under 25, and have finished 12 years of formal education or courses at a level that is equivalent to high school (this includes aspiring grads).
For Masters and Ph.D. students, you must be under 35 and a college graduate, including those who are still in college. alternatively, you must have completed 16 or 18 years of study.
You must be under 35 and a university or teacher preparation program graduate to join a teacher training program. You must have at least five years of current teaching experience in your nation's elementary, secondary, or teacher preparation institutions.
The age range for students who want to study Japanese is between 18 and 30. When applicants arrive in Japan, they must be enrolled as undergraduate students in faculties or schools that specialize in the Japanese language or culture at a university outside of Japan, and when students return to their home nations, they must be registered in the home institution.
How to Apply for MEXT Scholarship 2023?
Please use the following application procedures to apply for a MEXT Scholarship:
From here, locate the Japanese Embassy or Consulate in your nation.
Visit the Japanese Embassy's webpage in your nation. You may locate the MEXT scholarship under the Education / Scholarship page.
Download and complete the MEXT scholarship application.
Send the necessary paperwork to the Japanese Embassy in your nation (see list below).
The Japanese Embassy will administer an examination in writing. A sample written test with solutions is available here.
The candidates will then be interviewed after that.
The selected candidates will be notified through email or the embassy website.
Documents Required for MEXT Scholarship 2023
(1) MEXT Scholarship Application form
(2)The highest degree that has been officially certified.
Candidates for the Bachelor's degree: 12 Years of Education
Candidates to master's programs: bachelor's degree
Candidates for doctoral programs: master's degree
Note: If the degree is not in English, a notarized copy of a translation in English is required.
(3)Official transcript for the highest degree that has been conferred. (Including the grading scheme)
Bachelors program applicants: 12 Years of Education
Master's program applicants: Bachelor's degree Transcripts
Ph.D. program applicants: Master's degree Transcripts
Note: A notarized copy of an English translation is necessary if the diploma is not written in English.
(4) Two letters of endorsement The letters of reference must be prepared in English by the applicant's English-speaking professors, advisors, or employers who can assess your academic achievement and research potential. (For students doing research)
(5) If available at the time of application, a passport scan
(6) Curriculum Vitae (CV) (for research students)
(7) Photographs
(8) Plan of study or statement of purpose. The study plan is totally written in English.. The applicant's motivation, educational and research history, and desired APU studies must all be covered in the basic information. (For students conducting research)
(9)Students who attended language schools taught in English may submit an English Proficiency Certificate from their home university and are excluded from taking the language test.
(10)For research students, a thesis, or related publications.
(11) Other reference documents (if applicable)
Website
For further details about the MEXT Scholarship 2023, kindly visit the official website: