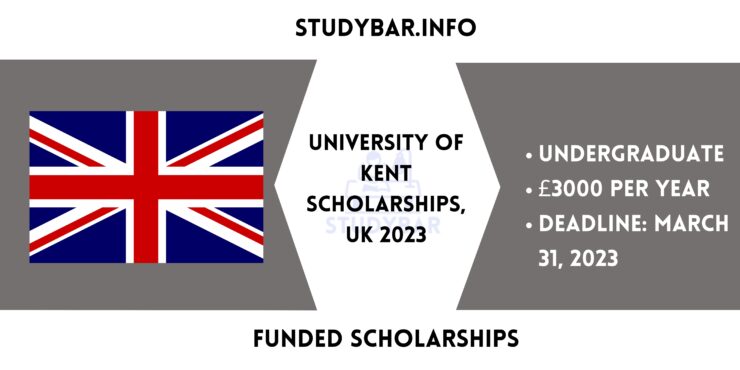 Good news! Applications for the University of Kent Scholarships are being received now. This article will guide you through the details of this scholarship program, its benefits, and step by step application process.
University of Kent Scholarships 2023-24 are partially funded scholarships, presented for international students. These scholarships provide an amount of £3000 annually during the complete degree program at the University of Kent, for tuition fees coverage. The nationals of any country paying overseas fees are eligible.
The University has an outstanding ritual of hospitability towards international students and offers many scholarships for undergraduate programs.
The University of Kent is a British public research university. The University of Kent was established in 1965 and was granted its Royal Charter on 4 January 1965. It is among the UK's leading academic institutions offering world-class research, possesses excellent ratings internationally, and paving the path in many fields of study.
Also check: Marconi International University Scholarships USA 2023
 Details of the University of Kent Scholarship
Country: UK
Institution(s): University of Kent
Degree Level: Undergraduate
Available disciplines: 

Art
Economic
Pharmacy
Engineering and Electronic
Business
For more details about available disciplines, click here.
Program Period: 3-4 years
Deadline: March 31, 2023
Scholarship Coverage
The scholarships provide £3000 per year of the program at the University of Kent, to afford the tuition fees and are offered to international students paying overseas fees.
Also visit: Dean's Award for Academic Excellence Scholarship 2023
Eligibility Criteria
The applicant must know the English language.
Students from any country of the world can apply.
The applicant must have applied for an undergraduate program at the University of Kent, commencing in September.
The applicant must own an offer of a place (conditional or unconditional) in a degree program.
The applicant must be considered an overseas fee payer.
The applicant's firm acceptance of the offer must be confirmed by the deadline.
Students who have selected Kent as their insurance place cannot apply for the Scholarship.
How to Apply?
Follow these steps to apply for University of Kent Undergraduate Scholarships:
Apply for Kent University undergraduate program through UCAS from here.
Apply for a Scholarship from here.
If you are applying for a program with the Medway School of Pharmacy, please email international@kent.ac.uk.
As part of your application upload an essay in either a Word or PDF format. It is advised to write at most 750 words essay about which you are passionate and which is related to your selected degree.