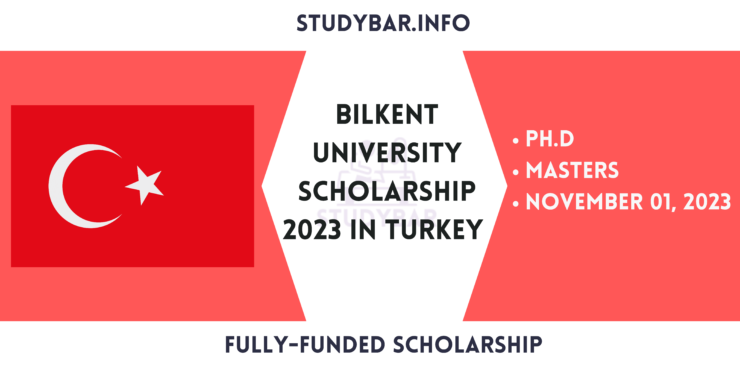 Do you aspire to further your study at the Bilkent University Scholarship in Turkey? Good news. You are invited to submit an application for the Bilkent University Scholarship in Turkey year 2023. Students pursuing master's and doctoral degrees are fully sponsored by this fellowship. This scholarship is open to all foreign students from all over the world to apply for in Turkey.
The Bilkent UNAM Scholarship offers a variety of financial help. Numerous advantages are offered to the recipient of the University of Bilkent Scholarship. Holders of graduate scholarships will get a 450 USD monthly stipend. A 600 USD monthly stipend will be given to recipients of the Ph.D. scholarships.
For international students who desire to study for free in Turkey, Bilkent University provides the highest-paying scholarship. You will receive an English-language education from Bilkent University Turkey Scholarship. There are no application fees necessary for the Bilkent UNAM Scholarship.
Bilkent University has the highest percentage of open-access publications worldwide, according to the 2019 CWTS Leiden Rankings. In the inaugural Times Higher Education Asia University Rankings, Bilkent University is ranked 54th among the top three institutions in Turkey.
The deadlines for applying for scholarships at Bilkent University must be noted, and you must adjust your plans appropriately. Remember that preparation in advance is crucial for a successful application. Keep an eye on the university's website or contact the admissions office for any more information.
You must read the entire article below to get more information about the University of Bilkent scholarship.
About Bilkent University Scholarship 2023 in Turkey
Host Country: Turkey
Institution: Bilkent University
Degree level: Master's and Ph.D. degree
Deadline: March 31, 2023 / May 31, 2023 / November 01, 2023
Program Period:
Pertaining to a master's 3 years and 6 semesters of financial aid.
For Ph.D. degree Scholarship: 4 Years.
Courses Offered
Architecture (M.S.)
Computer Engineering (M.S. and Ph.D.)
Neuroscience (M.S. and Ph.D.)
Physics (M.S. and Ph.D.)
Chemistry (M.S. and Ph.D.)
Mathematics (M.S. and Ph.D.)
Telecommunications and Networking ( Non-thesis M.S.)
Electrical and Electronics Engineering (M.S. and Ph.D.)
Industrial Engineering (M.S. and Ph.D.)
Mechanical Engineering (M.S. and Ph.D.)
Materials Science & Nanotechnology (M.S. and Ph.D.)
Molecular Biology and Genetics (M.S. and Ph.D.)
Scholarship opportunities at Bilkent University
For graduate students, Bilkent UNAM provides excellent scholarship options. These consist of:
UNAM Bilkent University President Graduate Fellowship
UNAM Scholarship for Young Women
Bilkent UNAM Graduate Scholarship
Scholarship from externally funded projects
Check: Maxwell King Ph.D. Scholarship 2024
Eligibility Criteria for Bilkent University Scholarship 2023
In order to be considered for the University of Bilkent Scholarship, candidates must meet the criteria;
English, IELTS (at least 6.5 overall and 5.5 from each subject), TOEFL IBT (at least 87), or Bilkent COPE (at least C) are the only languages accepted for the Bilkent Scholarship.
Applications are accepted from all countries.
MSc candidates or BSc graduates must have at least a 2.80/4.00 CGPA at the time of application.
For Turkish residents or citizens, an ALES score of 55 (quantitative) is necessary.
The quantitative General Test score on the GRE is 153. However, if you are only slightly off and have a strong background, we do encourage you to apply.
Scholarship Coverage
The following financial services will be provided to scholarship winners from the University of Bilkent:
For Ph.D. Students
Tuition waiver (62.100 TL/year)
Monthly stipend and housing (total  of 5.500 TL / month)
Private health insurance
A laptop computer
Meal card (after the Ph.D. qualifier)
The UNAM travel aid for the Awardee's oral presentation at a reputable/respected peer-reviewed conference is designed to be one of such techniques. The Awardee is obligated to communicate the results of the thesis research work being undertaken at UNAM.
For MS students
Tuition waiver (62.100 TL/year )
Housing and stipend combined each month (4.400 TL total)
Private health insurance
A laptop computer
The Awardee is obligated to disseminate the results of the thesis research work being done at UNAM, and UNAM's travel assistance for the Awardee's oral presentation at a well-known/respected peer-reviewed conference is intended to be one of the tools for doing so.
Other Benefits
Bunk beds or single beds, wardrobes, trash cans, bookshelves or shelves, desks, desk chairs, and mini-refrigerators are all supplied in the dorms.
Every lodging offers a free, limitless high-speed internet connection.
All dorms provide community amenities, including self-cook kitchens or kitchenettes, TV or social lounges, study lounges, self-service laundry and ironing rooms, gaming rooms, and visiting rooms or areas.
Central heating, 24-hour hot water, communal bathrooms, and other amenities are all included on each level.
Required Documents
Updated Resume or CV
Proof of Degree (if already obtained)
Official Transcripts (most recent)
Statement of Purpose
Two Letters of Recommendation
Research Proposal If Any
IELTS/TOEFL Result
GRE Score
How to Apply!
The scholarship application procedure at Bilkent University in Ankara, Turkey, is done online. To apply for the scholarship, you must adhere to the instructions below.
At the start, you can create a new account from here.
Then you can choose your graduate school.
All of the above-mentioned essential documents must be attached.
You must go to the official website listed below to apply and learn more about the Bilkent University Scholarship.