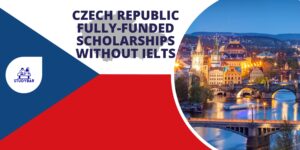 The Czech Republic Fully-Funded Scholarships are being offered to international students in the Czech Republic. You can apply for Bachelor's, Master's, and PH.D. degree program. It provides quality education for higher education. More than 100 courses in the English language are provided by 45 universities throughout the country. By the QS world ranking, 9 of these universities are ranked among the top universities of the world.
It is possible to study in the Czech Republic without the IELTS test. It also offers admissions to international students without the IELTS test. Before starting the program, students can also enroll in intensive English language courses.
Also Visit: Bristol University Think Big Scholarship 2022
Czech Republic scholarship 2022:
Country:
Degree level: Bachelor's, Master's, PH.D.
Financial coverage: all funded.
List of Czechia universities without IELTS:
Charles University.
Anglo-American University.
Czech university of life sciences.
CEVRO Institute.
The University of West Bohemia.
Mendel University in Brno.
Masaryk University.
The Technical University of Liberec.
Metropolitan University Prague.
Czech Technical University in Prague.
College of International and Public Relations Prague.
List of Czech Republic Fully-Funded Scholarships:
It is the cheapest place to study. There are three kinds of scholarships:
University scholarship.
Government scholarship.
Scholarships are provided under bilateral or multilateral international agreements.
Czech Republic Government Scholarships:
The Czech Republic provides scholarships for Masters and Doctoral degree programs. Erasmus Mundus scholarships are also given to study in Czech Universities.
For further information: Visit Here
Visegrad fund scholarship:
For the Bachelor's, Master's, and Doctoral degrees at Czech Republic universities, scholars will get the scholarship.
For More information: Visit Here
Charles University Scholarships:
During bachelor's and master's degree programs in Computer Science, the Charles University Faculty of Mathematics and Physics provides tuition fees waiver scholarships.
For further information: Visit Here
Czech Technical University Scholarships for International Students:
The master's and doctoral students studying at CTU can apply for this scholarship.
For further information: Visit Here
Ministry of Youth, Education, and Sports Scholarship:
It is a Czech government program for intergovernmental student exchanges.
For further information: Visit Here
How to Study?
Some universities in Czechia do not need IELTS if the student has completed the previous studies in English. If you completed your previous education in an English Medium Institute, You could submit an English Language Proficiency letter.