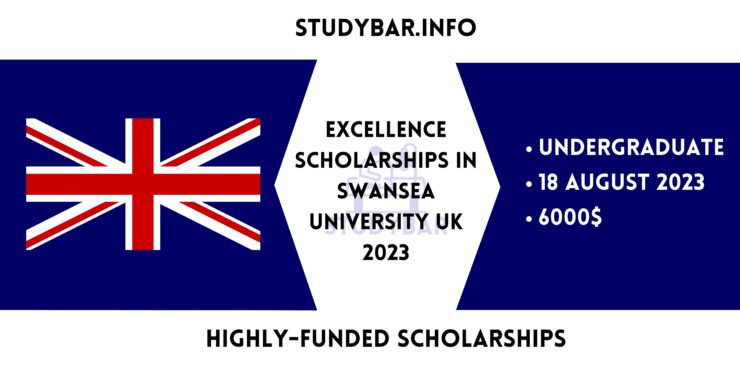 Scholarships at Swansea University have been announced. The scholarship is available for the year 2023/24. This scholarship is a highly-funded master's level scholarship.
Being an outstanding university with a good reputation, this experience for students is really one of a kind. The wide variety of courses allows students to apply for scholarships from their choice of courses. This scholarship program grants you the to earn master's studies at Swansea University with an award of up to £6,000. 
Also Check Towson University Scholarship in USA 2023-24
Details About Excellence Scholarships at Swansea University
Application deadline: 30th September 2023.
Course Level: Master's degree programs at Swansea University.
Study Subject: BA, BEng, LLM, MSc, BSc, MEng, MA, LLB, and MSci.
Award of scholarship: Up to £6,000
Number of Scholarships: NA
Nationality: EU or non-UK applicants
Eligible Countries: Worldwide
Eligibility of the Scholarship
Applicants must follow the given criteria to be eligible for the scholarship:
candidates either from the EU or UK are already eligible, later admission office decides regarding them that the candidates, when they apply at Swansea University, are entitled to pay their fees at the EU/UK rate.
Students who attain a Bachelor's degree that is with First Class honors' will receive financial aid positions.
Scholarships awards are accessible for both part-time and full-time study, however, the award for part-time study is available on a pro-rata basis.
Pursuing a postgraduate master's degree previously from Swansea University makes you ineligible and candidates must already be registered in Swansea University's Taught Master's program for the first schedule in September 2023.
A full award of tuition fee through another source, again, makes you ineligible and candidates must be privately funded.
All terms and conditions of the offered award must be checked and in case of holding several partial awards Postgraduate Admissions Office must be contacted at postgraduate.excellence@swansea.ac.uk
Also check GREAT Scholarships 2023 Study Abroad in UK
To apply for the scholarship, applicants should apply for the course and then complete an Excellence application.Students are required to submit the following documents with the admission application.
Supporting Documents:
Students are required to submit the following documents with the admission application
Pre-qualification degree
A statement
Certificates of English Language proficiency
Copies of academic transcript and award
A copy of passport
Admission Requirements: At least a minimum of 2:1 bachelors ' degree or equivalent qualification is the requirement for studying at the postgraduate level in this university.
Language Requirement: IELTS 6.5 for masters' course or equivalent.