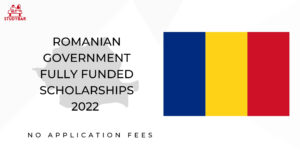 I am glad to announce that the Romanian government has announced scholarships for International students. The scholarships are funded by the Ministry of Foreign Affairs Romania. The Romanian government is offering degrees at Bachelor, Master and P.hD. levels in different Romanian institutes. Students belonging to any part of the globe are eligible to apply. Romanian government offers a particular number of scholarships every year.
Undergraduate, Master and Doctoral Scholarships will be awarded from 85 different countries. The Romanian government does not charge any application fee. All countries outside the European Union are eligible for applying for this scholarship. which is sponsored by the Romanian government.
Also Check :  Stenden University of Applied Sciences Netherlands Scholarships 2022.
Romania is considered as one of the best study abroad Places. The duration will be between 3-6 years for the scholarship undergraduate program, parallelly it will be 1.5- 2 years for graduate programs and a time span of 3-4 years for the doctorate degree. Romanian universities offer degrees in a number of fields.
 Details About The Romanian Government Scholarships 2022
Host Country: Romania
Degree Level: Undergraduate, Masters, P.hD.
Financial Coverage:partially-Funded
Deadline: 15th March 2022
Available Fields
Architecture,
Visual Arts,
Romanian Culture and Civilization,
Journalism,
Political and Administrative Sciences,
Engineering,
Education Sciences,
Social and Human Sciences,
Technical Studies,
Oil and Gas,
Agricultural Sciences,
Veterinary Medicine.
Medicine, Dental Medicine, and Pharmacy are not eligible for scholarships.
Scholarship Endowment (Financial)
The Government of Romania would be responsible for paying all tuition fees of the scholars.
Romanian government promises to cover residential expenses.
Monthly stipend of 65 Euros for undergraduate students.
Monthly stipend of 75 Euros for master students.
Monthly stipend of 85 Euros for postgraduate students.
The following scholarship does not promise transport allowances.
Eligibility Criteria For Romanian Government Scholarship
Citizens of every nation except European union members.
The scholarship is only for international students.
local students can not apply for scholarships.
For Master's and Doctoral Studies, the maximum acceptable age is 35 years old. while, for postgraduate, 45 years is the limit.
Deadline
Willing persons are directed to apply prior to the 15th of March 2022. The list of selected candidates would be displayed by 15th July 2o22. You can apply via the official website.