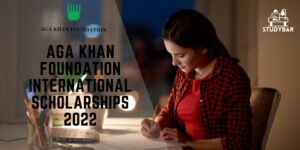 I am glad to announce that scholarship application are open now for Aga Khan foundation international scholarships. Aga Khan Foundation provides scholarships every year. The foundation provides a limited number of scholarships to extraordinary students from developing countries that do not of other means for study. Scholarships are awarded via a competitive application process 50% grant and 50% loan basis.
Also Check: Renmin University CSC Scholarships China
Details About Aga Khan Foundation International Scholarship 2022
Organization: Aga Khan Foundation
Head Quarters: Geneva, Switzerland
Degree level: Masters/Ph.D. Degree
Deadline: 31st March
Study in:  Any Country
Course starts 2022
Host Institutions: All universities
Courses with a shorter time span will not be considered.
Eligible Countries In Aga Khan Foundation:
Bangladesh
India
Pakistan
Afghanistan
Tajikistan
Kyrgyzstan
Syria
Egypt
Kenya
Tanzania
 Uganda
Madagascar, and Mozambique
France
Portugal
UK
USA
Canada
Applications are being excepted from candidates to above-developing countries and ones who are interested and working hard in development-related studies and do not possess any source to overcome their educational expenses.
Scholarship Endowment, Inclusions And Duration:
The scholarship only sees off your tuition fee and living expenses. Agha Khan Foundation is not bound to pay travel allowances. The foundation will assist P.hD. students for only the first two years of their degree afterward they have to find another source.
A service charge of 5% will be imposed on the scholarship amount every year, which will be considered as a loan. The loan agreement must be co-signed with the guarantor. Payback will be started right six months after completion of the degree.
Eligibility Criteria:
Citizens Belonging to Bangladesh, India, Pakistan, Afghanistan, Tajikistan, Kyrgyzstan, Syria, Egypt, Kenya, Tanzania, Uganda, Madagascar, and Mozambique can apply to the Foundation. Applicants from France, Portugal, the United Kingdom, the United States, and Canada who are originally from the above-developing countries. Applications are being accepted from candidates belonging to the above-mentioned countries.
Candidates other than these states are not eligible. The student should reside in one of the countries where Aga Khan Foundation (AKF), Aga Khan Education Services (AKES), or Aga Khan Education Board (AKEB) offices are located to proceed with applications and interviews of candidates.
Students under 30 would be preferred.  As every year application forms are available at AKF offices in the country of your residence. Students are directed to submit the application form to the office from where they have received the documents.
Deadline Aga Khan Foundation Scholarship Application:
No application will be excepted after the 31st of March. We recommend you should contact the Aga Khan Foundations' office for information regarding the deadline because it may differ in different countries. You can get further information from the official website.