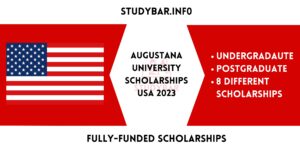 Augustana University Scholarships, USA 2023 is open now for international students. The scholarship is available for all the academic fields offered at Augustana University. Scholarship deadlines vary with respect to the field.
The students must fill out the Form for the free Application for Admission and Scholarship to be considered for scholarships at Augustana. Scholarships are to be awarded to full-time students having outstanding academic grades. Augustana University provides scholarships to support students with educational expenses such as tuition, fees, housing, and board. For more information, Augustana University policy.
Also Check How To Get a Scholarship ?
Details About Augustana University Scholarships
Country: USA
Institute: University of Augustana
Scholarship Type: Multiple highly paid scholarship
Degrees offered: Undergraduate and Postgraduate.
Study Level:
The Augustana University Scholarship is available to the following degree levels:
Postgraduate
Undergraduate
Available Disciplines:
All Subjects offered at Augustana University can take benefit from the scholarships.
Scholarship Benefits:
Scholarships are awarded to students based on their admissions application. There is no need to submit a separate application for the scholarship as it will automatically be considered as you apply for admission.
Augustana Academic Scholarships
On the basis of academic distinction, the scholarship is offered to new first-year students and current students.
The scholarship is worth $17,000 to $23,000 per year and renewable
The deadline is November 1st.
Alumni Legacy Award
The scholarship is awarded to full-time, degree-seeking students on the basis of a relative including a parent, grandparent, sibling, or spouse is a bachelor's or master's degree-seeker from Augustana.
$1,000 per year is provided as a scholarship award.
Family Tuition Grant
Applicants must be full-time Augustana students with a family member presently enrolled full-time.
If a direct family member enrolls full-time, $500 is awarded annually.
Also check The University Of Harrison Middleton Fellowship In Ideas
Augustana Transfer Scholarship
Students who migrate from another institution to Augustana after finishing one semester of coursework are eligible for this award.
The scholarship amount is $12,000 to $22,000 per year.
Application form: Apply now.
Phi Theta Kappa Honor Scholarship
Arriving migrated students who are members of Phi Theta Kappa.
$2,000 will be awarded annually.
Application form: Apply now.
Do not forget to indicate your membership of Phi Theta Kappa at your current university on your application.
Augustana Grant
Applicants must be high school graduates fulfilling financial requirements along with proof.
The amount is variable.
Application form: Apply here. Must file the FAFSA.
Diversity Scholarship
Students of hue who are full-time local students.
The amount of $1,000 is awarded annually.
Global Leaders Scholarship
The scholarship is open to international students depending on their academic permits and nationality.
The amount available is renewable and it fluctuates.
Application form: Apply here.