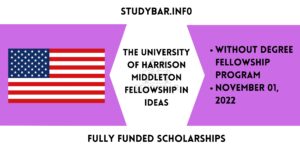 The University Of Harrison Middleton Fellowship In Ideas is open now in the United States of America. Students from all over the world are eligible to apply for the fellowship. The HMU Fellowship in Ideas is mainly a writing and debate-based project in the field of humanities basically for fresh university graduates in any area of humanities, interdisciplinary dialog, and intellectual and professional enrichment.
The fellowship promises a wide exposure to western civilization's history, culture, and networking probabilities for a wide range of academics, lifetime learners, readers, and philosophers from a number of fields. Other than participation in the conference, all tasks of the University Of Harrison Middleton Fellowship in Ideas can be accessed from any place from your phone and internet connection.
Also Check Scholarships in Austria
Details About The University Of Harrison Middleton Fellowship In Ideas
Level of Study: without Degree Fellowship Program
Host Institution: Harrison Middleton University
Origin: Arizona, USA
Focus Areas: Humanities, interdisciplinary dialogue, and intellectual and professional enrichment
Duration: Nine months
Deadline: November 01, 2022
Financial Benefits:
Following financial benefits will be given to the fellowship winners.
A stipend of $500.
A chance to take part in virtual inquisitive discussions with faculty.
online publication in the HMU official blog and dialogues.
At the completion of the fellowship, a mini library consisting of five books foundation publications.
Also Check Italy Scholarships for International Students
Eligibility Criteria
Applicants must meet the following criteria to apply for an HMU fellowship:
Required Language: English
Eligible Nations: throughout the globe.
Must have a Bachelor's, Master's, or Doctoral degree either in any field.
Must have an interest in the humanities and the ideas of Western culture.
Command over reading, writing, and communication is mandatory.
writing two blogs for the HMU Blog and a detailed review of one book.
Also Check MBA Scholarships for Women
How to Apply for Harrison Middleton University Fellowship in Ideas?
follow the following steps to apply for the fellowship.
To access the application form, Click here.
The following documents are to be submitted:

A biographical statement of up to 500 words that highlights your background as a student, your engrossment in the humanities, and your attentiveness in the HMU Fellowship in Ideas.
A properly-recognized descriptive essay of up to 1500 words.
Plus a work acknowledged page, claiming your interest in a great idea in the humanities relevant fields like imaginative literature, natural science, philosophy and religion, and social science.

Share your application and essay as Microsoft Word-compatible documents to Information@hmu.edu
Website
For further details about the Fellowship opportunity in humanities from Harrison Middleton University in the USA, please check the official website.
You can Also Check