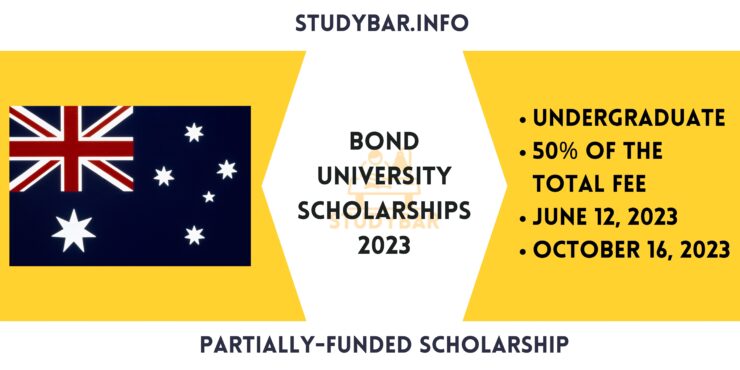 Continue your educational journey in Australia. happy news Scholarships at Bond University are available right now. The Scholarship's advantages and the detailed application process are all covered in this article.
International students can apply for this Scholarship for 2023–2024, which is partially financed. The scholarship is exclusively available to undergraduate students. The students who receive this scholarship have their tuition expenses waived by 50%.
High-achieving students from countries other than Australia who want to enroll in undergraduate programs at Bond University have the chance to win scholarships for tuition reimbursement.
Excellence in Undergraduates The fact that scholarships are given out based on academic achievement shows how committed Bond University is to attracting top-notch, international students.
Scholarship Summary
Level of Study: Undergraduate
Institution(s): Bond University
Study in: Australia
Opportunity Focus Areas: Checklist below
Program Period: Four years
Deadline:

Applications for students beginning the fall 2023 semester in September have to be submitted by June 12, 2023.
Applications must be received by October 16, 2023, for students beginning in the January 2024 semester.
Courses Offered
– Click Here for more information on the undergraduate programs.
Scholarship Coverage
The benefits listed below are provided to recipients of  Scholarships:
The Undergraduate Excellence Scholarship provides recipients with a 50% tuition waiver for their selected program.
Master of Psychology, Study Abroad and Exchange Programmes, Bachelor of Medical Studies, and Doctor of Physiotherapy programs are ineligible for the scholarships.
Eligibility Criteria for Bond University Scholarships
For Bond University Scholarships, candidates must meet the requirements listed below:
Required Languages: English
Eligible Countries: All World countries
You must already have an offer from Bond University in order to begin an undergraduate program there. Students who have not yet received an offer may submit their applications using the Bond University Online Application Form. Scholarships are not available for the Master of Psychology, Study Abroad and Exchange Programmes, Bachelor of Medical Studies, or Doctor of Physiotherapy programs.
Reside currently outside of Australia. It is still possible to apply if you are taking English at Bond University College as part of a bundled offer.
You must possess exceptional academic talent.
Fill out and submit the Undergraduate Excellence Scholarship Application Form before the deadline for the scholarship application pertaining to the selected starting semester.
You cannot already be enrolled in Bond University's undergraduate or graduate programs.
Also, apply for Edith Cowan University Scholarships 2023
How to Apply for Bond University Scholarships?
To apply for Bond University Scholarships, please follow these instructions:
Before submitting an application for this scholarship, fill out the Bond University online application form to get their program offer.

Students must submit the Undergraduate Excellence Scholarship Application Form after receiving an offer. By the pertinent application closing date, the form must be fully completed and sent to international@bond.edu.au
Website
Visit the official website to learn more about Bond University Scholarships: