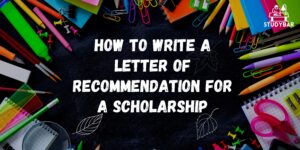 Here you arrive at a complete guide on how to write a letter of recommendation for scholarship Application. A Letter of recommendation is one written by someone who knows you and can recommend you for something. This recommendation can be for a Job, Scholarship, or anything else. Our aim here is to clarify How to write the best Recommendation Letter for a Scholarship. This letter acts as a crucial part of any scholarship. A letter of recommendation is mandatory for a scholarship application.
Also, Check Coca Cola Internships 2023
The Recommendation letter highlights the properties like the character, qualities, and accomplishments of an applicant to match the basic criteria of a particular scholarship. It is good for a student to check a recommendation letter sample. No scholarship is accepted without a recommendation letter.
Never write a letter of recommendation yourself. Always request your Boss, professor/coordinator, or anyone who properly knows you and has the ability to write such letters. Here you can get various examples of letters of recommendation for scholarships.
Also, Check Airbus Internships Program 2023
Key points for Letter Of Recommendation For Scholarship Application
It's not very complicated if you follow the correct track. Relax! You are not one to write it for you but to be written by someone else.
Do not be scared of the word "reference letter". Reference letters and recommendation letters are exactly the same.
Also, Check Tesla Spring 2023 Internships Fully-Funded
Who can write a Recommendation Letter for You?
This letter is to be provided by a teacher, a professor, or a counselor. The type of scholarship and criteria also specify the person who can write the recommendation letter. For example, if you are applying for a sports scholarship program or any athletic Scholarship, then the letter must be provided by an athletic coach.
How to Write (Format of Letter Of Recommendation For Scholarship)
A scholarship letter of recommendation should comprise a full page (nearly 300 – 500 words) and includes a letterhead, an introduction, 2 body paragraphs, and a conclusion.
Also Check Tesla Spring 2023 Internships Fully-Funded
Letterhead
At the top left or right-hand corner of the page, the writer should involve the following information:
Full Name
Title
Date of Writing
Street Address
School or University Name, logo
City, State, Zip Code
Preferred Contact (optional)
Introductory Paragraph
The introductory paragraph will shortly introduce the applicant. Name and precise details of the candidate's appropriateness will be defined in the body paragraphs, so the introduction only requires 2 or 3 sentences.
In the introductory paragraph, the writer just proclaims who he is recommending for which scholarship and the type and duration of their relationship with the candidate.
Also Check Boeing Internship summer 2023
Main Body Paragraph
In the first body paragraph of the letter, the author will elaborate on the means by which the candidate fulfills the criteria for the scholarship like the candidate's grades and academic records.
The author will try his best to make recommendations commendable for consideration. The length of this paragraph should be approximately 3 to 5 sentences.
Also Check IMF Internship Summer 2023 (Fully Funded)
Conclusion
A scholarship recommendation letter should finish with a concluding paragraph that stresses the author's validation of the candidate and leaves an invitation to contact the author by email or telephone.
The author is required to sign the letter by hand in order to confirm its genuineness. This conclusion should leave a deep mark of the author's confidence in the candidate and will generally include 2 to 4 sentences.